Hellmuth Drops a Bit
Escrito
2011-06-21 09:12 GMT
por
123md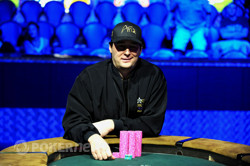 After bet-folding to John Racener in a hand on sixth street, Phil Hellmuth has just lost a pot to Eric Rodawig as well.
Rodawig:
/
/

Hellmuth:
/
/
Fourth and fifth streets were checked by both, followed by Hellmuth check-calls on sixth and seventh. Rodawig tabled
for a straight and 6-5 low to scoop.
Tags/etiquetas: Eric Rodawig, John Racener, Phil Hellmuth.
Chip counts/puntos
Eric Rodawig
2,600,000
150,000
Phil Hellmuth
1,350,000
-335,000
John Racener
1,100,000
375,000