Polychronopoulos Pulls the Wool Over Timoshenko's Eyes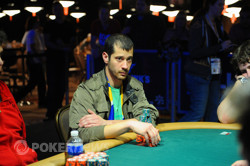 It seems that Athanasios Polychronopoulos is really starting to get a feel for his tablemates as he has been picking up a lot of pots.
Most recently after a flop of
, Both he and Simon Charette checked and saw the
come on the turn. Polychronopoulos bet out 200,000 and Charette opted to call. The river brought the
and Polychronopoulos counted out piles of green chips and pushed in a bet of 750,000. Charette went into the tank for nearly five minutes before deciding to fold. After Charette's cards were in the muck Polychronopoulos proudly showed the
for a stone-cold bluff.
Tags/etiquetas: Athanasios Polychronopoulos, Yevgeniy Timoshenko.