Where is Lunkin?
Escrito
2011-07-01 23:06 GMT
por
EricRamsey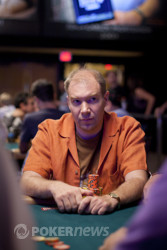 Isaac Baron opened to 26,000, and Vitaly Lunkin three-bet shoved for 220,000. It was about half of Baron's chips, but he made a good call with his
ahead of Lunkin's
.
Baron's call was rewarded as the dealer spread the board:
. Trip aces will do it, and Lunkin has been eliminated in 28th place, good for the last of the $21,311 payouts. For Baron, the knockout boosts his stack up to 635,000 or so.
Our field has shrunken to 27, and they're racking up and redrawing as we speak. We'll be back to tell you how the tables look in a moment.
Tags/etiquetas: Isaac Baron, Vitaly Lunkin.