Karina Jett Eliminated in 2nd Place ($119,010)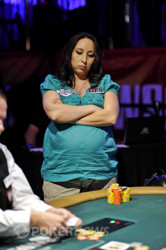 WOW! That was certainly not what anyone expected!
On the very first hand of heads up play, Karina Jett raised to 60,000 on the button and Marsha Wolak called from the big blind.
The flop came down
and Wolak checked to Jett who bet 70,000. Wolak quickly announced, "All in." Jett didn't take long before she said call and her tournament life would be at risk as the players turned over their hands.
Wolak:

Jett:
Wolak was ahead with top pair and an inside-straight draw against the open-ended straight draw of Jett. The rail was surprisingly and utterly quiet as no one seemed to really grasp what was going on with everything happening so quickly.
The turn was the
which gave Wolak her straight but still, the crowd was silent. Jett would now need one of the four remaining aces or three nines in the deck to give her a higher straight and the double up.
The river was...the
and just like that, Jett was eliminated in 2nd place. Wolak screamed and ran over to her rail before she went over to Jett and the two hugged and congratulated each other. Not long after, in their typical fashion, Wolak's rail cheered, "Marsha, Marsha, Marsha."
For her efforts, Jett will take home $199,010 and improve on the back to back 4th places finishes that she had in this same event in 2003 and 2004. We congratulate Jett on her performance.
Tags/etiquetas: Karina Jett, Marsha Wolak.
Chip counts/puntos
Karina Jett
Eliminado