Robert Mizrachi Bubbles; 16 Remain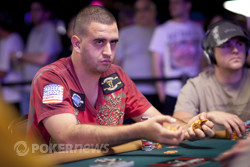 Stud
Phil Hellmuth: (X)(X) /
/ (X)
Matt Glantz: (X)(X) /
-- FOLDED
Robert Mizrachi (X)(X) /
/ (X)
On third Hellmuth raised, Glantz called, a short-stacked Mizrachi reraised, and both Hellmuth and Glantz called. It checked to Hellmuth on fifth who bet, Mizrachi pushed his last 8,000 in, and Glantz called. Glantz then folded to Hellmuth's fifth-street bet.
The remaining cards were dealt, and Hellmuth tabled
and then the
on seventh for a pair of nines. His hand was best, as Mizrachi had
and picked up the
on the end for deuces. Mizrachi goes out in 17th -- squarely on a huge, six-figure bubble -- while Hellmuth now sits with 510,000.
They are presently redrawing for the final two eight-handed tables.
Tags/etiquetas: Phil Hellmuth, Robert Mizrachi.