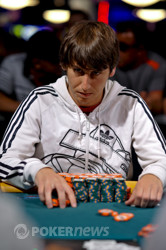 With just three players left, Event #56 was stopped yesterday after the end of the 30th level. While all around us the opening days of the Main Event are occuring, three men went to bed last night with a lot more on their mind than making a Day 2. Hasan Anter, Nemer Haddad, and Andy Philachack have an immediate shot at glory sitting right in front of them.
Anter leads the way on Day 4 with 8,385,000 chips. That accounts for over half of all the chips in play. Nemer Haddad holds a slight edge for second place with 3,440,000 over the 3,235,000-chip stack of Andy Philachack. There are still over 100 big blinds on the table among the three competitors so there is still enough play in the tournament for any of these three gentleman to win.
Action is set to kick off here in just a few short moments so be sure to stack around as PokerNews will have all of the action covered.