Event Info
| | |
| --- | --- |
| Players | 660 |
| Jugadores vivos | 660 |
| Media de puntos | 7,500 |
| Puntos Totales | 4,950,000 |
Event #11: $1,500 Limit Hold'em
Día 3 completado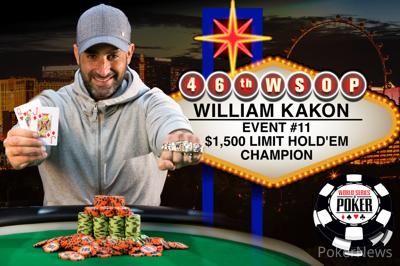 You don't have to worry about William Kakon much if you find him at your table early in a tournament, but be on guard if you happen to be facing him later on.
Kakon has taken down five of the 14 final tables he's reached in a live tournament career that's seen him that's seen him amass more than $833,000 in tournament winnings. His most recent and relevant score is the $196,055 he just banked for topping a field of 660 in Event #11: $1,500 Limit Hold'em. He said his excellent final table record is tied to a busy work schedule in the real estate industry that keeps him mostly away from tournament poker.
"I don't really play many tournaments because I don't have time," he said. "Very often, I register for a tournament and I'm like, 'I don't have time for this,' so I just throw my chips. Whenever I get deep, I'm really trying to win it. When I get close to the money, I really focus, and my game is totally different."
A final table that included Shannon Shorr (fifth), Kevin Song (sixth), Brandon Cantu (seventh), and Alexander Kostritsyn (ninth) is no cakewalk for anyone, much less a recreational player like Kakon, who hasn't been a limit regular for some time.
"I'm very familiar with the game," the Morocco-born, Paris-raised, Miami resident said. "I used to play cash a little, but but I stopped five or six years ago because the games are hard to find."
When Kakon's
topped second-place Daniel Needleman's
by flopping a jack on the final hand of the tournament, an elated Kakon jumped into the arms of a friend on the rail in celebration.
Final Table Payouts
| Place | Player | Prize |
| --- | --- | --- |
| 1 | William Kakon | $196,055 |
| 2 | Daniel Needleman | $121,051 |
| 3 | Mike Lancaster | $78,693 |
| 4 | Bryan Pimlott | $57,799 |
| 5 | Shannon Shorr | $43,053 |
| 6 | Kevin Song | $32,485 |
| 7 | Brandon Cantu | $24,796 |
| 8 | Hector Contreras | $19,138 |
| 9 | Alexander Kostritsyn | $14,924 |
Event #11: $1,500 Limit Hold'em
Día 3 empezado