Event Info
| | |
| --- | --- |
| Bolsa de premios | $1,379,700 |
| Players | 1533 |
Event #43: $1,000 Super Seniors' No-Limit Hold'em
Día 3 completado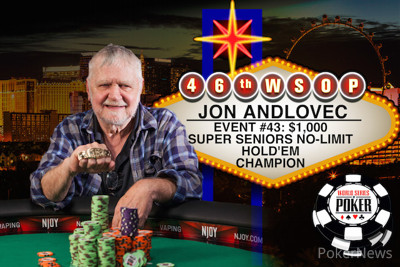 "Hippie" Jon Andlovec of Carson City, Nevada was just one of 25 hopefuls who returned for Day 3 of the 2015 World Series of Poker Event #43: $1,000 Super Seniors No-Limit Hold'em – a tournament that attracted 1,533 runners and created a prize pool of $1,379,700. Standing between him and the $262,220 first-place prize were two dozens veteran players, including Perry Green and Rod Pardey Jr., who have five bracelets between them.
All three of those players managed to make the final table, but Green was the first to go, exiting in eighth place when his pocket fives failed to hold against two overs. Hours later, when just three players remained on Hand #112, Wallace Havens of Sun Prairie, Wisconsin raised to 200,000 and Andlovec three-bet to 1.6 million. Havens proceeded to shove all in with the
, and Andlovec called with the
. It was a big flip, and the proverbial coin came down in Andlovec's favor after the board ran out
.
That left just Andlovec and the aforementioned Pardey to battle it out in heads-up play. It'd take just six hands for Andlovec to seal the deal when the chips got all in on a
flop. Pardey was drawing very much alive with the
against the
of Andlovec, but the
turn and
river both blanked. With that, Andlovec denied Pardey a third bracelet.
"I won this for my daughter Jennifer," the 70-year-old Andlovec said after the win. "I wasn't coming to the WSOP, but she sent me $1,000 and said, 'Dad, please go win the Super Seniors so that I can have an elaborate wedding because my 10-year significant other, Shamus, dropped to one knee.' She wants an elaborate wedding, so I came down and my whole goal was to play into third."
Andlovec is no stranger to the WSOP, but it had been awhile since he put up a result. In fact, Andlovec's last WSOP cash came back in 2004 when he finished ninth in Event #17: $1,500 Limit Hold'em Shootout for $6,620. Before that, he placed sixth in the 1991 WSOP Event #5: $2,500 Limit Hold'em for $17,763, and fourth in the 1990 WSOP Event #12: $2,500 Limit Hold'em for $38,100. Aside from that, Andlovec has managed plenty of tournament wins in his career, including four five-figure scores in Reno, meaning his lifetime tournament earnings now stand at $757,094.Prior to playing poker for a living, Andlovec, who is self-described hardcore hippie, worked as a farmer.
"I quit as a farmer when Willie Nelson was singing the song about the broken farmers, I was one of those guys. So I started playing professional poker and filed taxes as a pro. That's why I get social security."
Like many men his age, Andlovec had plenty of poker stories to share.
"I once borrow $40 in Reno to get to the WSOP," he claimed. "I only had $2 when I got here, and I ended up with a fourth place. They quoted me as saying, 'I don't bring money with me because I can only go up.'"
Andlovec also said he was also there when Chris Moneymaker won the WSOP in 2003: "I was actually there when he was scurrying about trying to sell his buy-in for $8,000, but he didn't know whom to bribe, they forced him to play, and poker changed forever. I could write a book about it."
If Andlovec ever does decide to right a book, he's now got the perfect ending as he is the WSOP's latest gold bracelet winner.
Super Seniors Final Table Results
| Place | Player | Hometown | Prize |
| --- | --- | --- | --- |
| 1 | Jon Andlovec | Carson City, NV | $262,220 |
| 2 | Rod Pardey Jr. | Las Vegas, NV | $162,100 |
| 3 | Wallace Havens | Sun Prairie, WI | $106,678 |
| 4 | Wayne Knyal | Los Angeles, CA | $76,904 |
| 5 | Thomas Lock | St. Clair, MI | $56,291 |
| 6 | Mark Estes | Grapevine, TX | $41,804 |
| 7 | Ted Cohen | Bonita Springs, FL | $31,484 |
| 8 | Perry Green | Anchorage, AK | $24,034 |
| 9 | Mark Schwartz | Buffalo Grove, IL | $18,584 |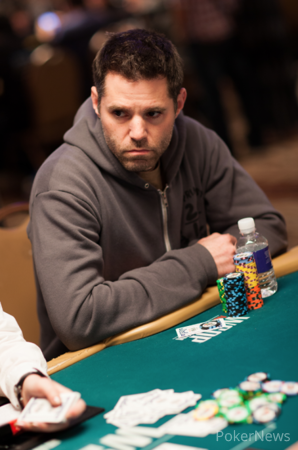 The crew is back from a not-so-wild EDC weekend to talk about a bevy of topics, including the $50,000 Poker Players' Championship, the strategy of defending the big blind, and enjoying edibles. World Series of Poker stream host David Tuchman drops by after the Seniors' Event ends, and Run it Up warrior Jonas Christensen explains how he won $60,000 before the series while watching "JCarver."
You can subscribe to the entire iBus Media Network on iTunes here, or you can access the RSS feed here. The PokerNews family of podcasts is now available on Stitcher.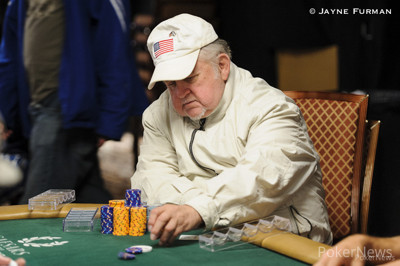 Day 3 of Event #43: $1,000 Super Seniors' No-Limit Hold'em will resume at 11 a.m. local time in las Vegas. Just 25 players remain from there 1,533 that began, and they will all be vying for the $262,220 first-place prize.
The headliner among them is Perry Green, who has won three bracelets and notably finished second to Stu Ungar in the 1981 Main Event. Green has earned nearly $700,000 at the WSOP in his career and looks likely to add considerably to that as he bagged sixth place with 404,000.
PokerNews is not the live coverage provider for this year's 46th annual WSOP, but our famous MyStack app will be functional for players that have it installed on their mobile devices.
Brought to you by PokerNews, the app connects poker players in poker events. If you are playing in a poker tournament with the MyStack app available, you can now update your own chip count, post comments, and even share photos with other PokerNews members from around the world. You'll also be able to follow the MyStack feed if you want to check in on other's progress at the events, and even create a list of favorite players to follow.
You can download the app via Google Play by clicking here.
You can download the app via the iTunes App Store by clicking here.
You can also check out all of our coverage from the 2015 WSOP right here, sponsored by Skrill!
Event #43: $1,000 Super Seniors' No-Limit Hold'em
Día 3 empezado