Event Info
| | |
| --- | --- |
| Bolsa de premios | $715,500 |
| Players | 795 |
Event #53: $10,000 Ladies' No-Limit Hold'em Championship
Día 3 completado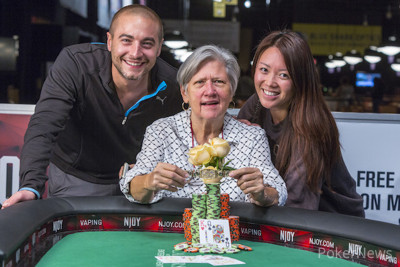 Jacquelyn Scott has worn many hats. Years ago she served as a critical care nurse, which was followed by a successful medical sales career in which she sold robots. She also helped facilitate the proliferation of defibrillators in that field before transitioning into a successful Fort Lauderdale real estate broker. Now the 66-year-old is a World Series of Poker bracelet winner.
On Sunday, the final 10 players from a 795-player field returned to battle down to a winner in Event #53 No-Limit Hold'em Ladies Championship. At that time, Scott sat in the middle of the pack, fifth in chips with 266,000, which was plenty for the South Florida grinder.
"It's such a good place," Scott said of poker in Florida. "I have no need to travel to play poker, except I would never want to miss the WSOP. We have big tournaments, and quite frankly I'm a full-time real estate broker, and that's how I make my living, so I'm not going to give that up to chase the dream, but I already caught it, this was a dream."
Scott's dream came true after she dispatched Hope Williams in heads-up play. According to updates from the event, on Hand #212 of the final table, Scott raised to 150,000 and then called when Williams shoved all in. Williams was ahead with the
, but Scott got lucky with her
after the board ran out
. It was a crushing blow to Williams, who took home $95,039 for her runner-up finish.
"It is just phenomenal," Scott said after the win. "It's something I've wanted to do for so long. I've played the WSOP Main Event four or five times since 2009. I've never cashed. I've cashed in a lot of tournaments in my hometown, but never cashed in a WSOP. I came here to play the Ladies Event having never played a ladies event in my life. I'm so thankful I played this because not only was it a great tournament, it was a whole different atmosphere, just a lot of wonderful women and really good players. I'm just honored to come out on top."
Well-spoken and extremely affable, it was immediately apparent that Scott wasn't your run-of-the-mill poker player.
"I'm not a very intense person myself, so I usually bring a lot of fun to the table," said Scott. "I like to chitchat and kid people. The event overall, I would say the women kind of have a good time together … I pretty much ham it up with the guys too, I like to bring levity."
Scott was also kind enough to shed some light on her background, which included pushing for a device that would ultimately change the medical world.
"Back in the late 1980s, really early 1990s, there was a company that developed the algorithm, and really invented if you will, the automatic defibrillator," Scott explained. "I was a critical care nurse previously, so I became their regional manager. I basically pioneered that technology throughout the state of Florida and other places. Now it just does my heart good to see that defibrillators are everywhere, that was our vision."
Scott was the first to admit she is an eclectic person, one who has lived an adventurous life.
"It seems like every 10 years I just want to try something different," Scott said with a laugh. "I think I'm running out of time though, I think I'll just stick with poker and real estate and enjoy myself."
She'll no doubt enjoy taking her new gold bracelet back to Florida, not to mention $153,876 in prize money.
Final Table Results
| Place | Player | Hometown | Prize |
| --- | --- | --- | --- |
| 1 | Jacquelyn Scott | Fort Lauderdale, FL | $153,876 |
| 2 | Hope Williams | Tempe, AZ | $95,039 |
| 3 | Amanda Sizemore | Las Vegas, NV | $61,268 |
| 4 | Li Fu | Ontario, Canada | $44,883 |
| 5 | Parm Mehmi | Tampa, FL | $33,363 |
| 6 | Liya Gerasimova | Moscow, Russia | $25,135 |
| 7 | Stacie Boehm | Sheridan, WY | $19,168 |
| 8 | Stephanie Ampelikiotis | Toronto, Ontario, Canada | $14,789 |
| 9 | Sandie Morse | Hudsonville, MI | $11,533 |
| 10 | Lisa Costello | Las Vegas, NV | $9,101 |
Jason Somerville is in the dirty basement for this episode, but he is replaced by the legendary Mickey Doft, who STILL DOESN'T HAVE PIZZA. The gang, broadcasting from the Hollywood Poker Open $2,500 Championship Event at the M Resort Spa Casino, discusses a bad day in the 25K Fantasy League, the recent bracelet winners, and the ABSENCE OF PIZZA.
You can subscribe to the entire iBus Media Network on iTunes here, or you can access the RSS feed here. The PokerNews family of podcasts is now available on Stitcher.
With just 10 players remaining in the $10,000 Ladies' No-Limit Hold'em Championship at the 2015 World Series of Poker, Russia's Liya Gerasimova tops the pack. She'll return with 896,000 in chips, and play will resume at 1 p.m. local time on Sunday. A top prize of $153,876 and a WSOP gold bracelet are up for grabs.
PokerNews is not the live coverage provider for this year's 46th annual WSOP, but our famous MyStack app will be functional for players that have it installed on their mobile devices.
Brought to you by PokerNews, the app connects poker players in poker events. If you are playing in a poker tournament with the MyStack app available, you can now update your own chip count, post comments, and even share photos with other PokerNews members from around the world. You'll also be able to follow the MyStack feed if you want to check in on other's progress at the events, and even create a list of favorite players to follow.
You can download the app via Google Play by clicking here.
You can download the app via the iTunes App Store by clicking here.
You can also check out all of our coverage from the 2015 WSOP right here, sponsored by Skrill!
Event #53: $10,000 Ladies' No-Limit Hold'em Championship
Día 3 empezado