Event Info
Información Nivel
| | |
| --- | --- |
| Nivel | 25 |
| Ciegas | 25,000 / 50,000 |
| Ante | 5,000 |
High Roller
Día 3 completado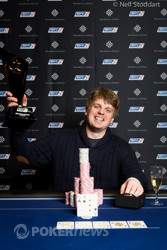 Vojtech Ruzicka has won the PokerStars.fr European Poker Tour Deauville High Roller for a cool €313,000 after final table that lasted four hours.
When play began at 13:00CET this afternoon, six players sat down in the vast tournament area of the Casino Barriere, each of them guaranteed €47,500 for their efforts. The first player to pick up this amount was Steve Silverman who committed his short stack with
and ran into the
of Alexandre Reard. The board ran out
and Silverman busted out.
Bryn Kenney joined Silverman on the rail almost an hour later. Ruzicka opened to 70,000, Kenney three-bet all-in with
and Ruzicka called with
. The final board read
to eliminate Kenney in fifth place.
Within minutes of Kenney's exit, Martin Jacobson was knocked out by Rusicka. Jacobson and Rusicka had clashed earlier in a pot that cost Jacobson half of his stack, and Rusicka helped himself to the other half when he called Jacobson's three-bet shove with
. Jacobson turned over
and although Jacobson spiked a ten on the flop, the board contained four spades by the river and Rusicka held a fifth in his hand.
Reard became the third place finisher 40 minutes later when he got his chips in with
versus the
of Reilly on a
flop. The turn and river were the
and
respectively and Reilly's flush condemned Reard to third place.
The chip counts going into heads-up were almost level but Reilly started to pull ahead by constantly hammering Rusicka Then a massive hand went down when Reilly got his money in with pocket tens against the jacks of Ruzicka to catapult the latter into the lead.
From that moment on it looked like Ruzicka was going to claim the title, and that is exactly what he did. At just before 17:00CET, a limped pot brought a
flop, a flop that Ruzicka bet 70,000 on and Reilly called. The
turn saw a 140,000 bet from Ruzicka, a shove of 650,000 from Reilly and a snap-call from Ruzicka.
Ruzicka:

Reilly:
Ruzicka had flopped a straight and had locked up the hand. The inconsequential
completed the board, busted Reilly and left Ruzicka to be crowed the High Roller's champion.
EPT Deauville High Roller Final Table Result
| Position | Name | Prize |
| --- | --- | --- |
| 1 | Vojtech Ruzicka | €313,000 |
| 2 | Timothy Reilly | €180,000 |
| 3 | Alexandre Reard | €105,700 |
| 4 | Martin Jacobson | €83,200 |
| 5 | Bryn Kenney | €64,100 |
| 6 | Steven Silverman | €47,500 |
| 7 | Jonathan Duhamel | €38,000 |
| 8 | Alain Goldberg | €28,500 |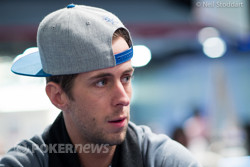 Timothy Reilly will have to settle for 2nd place and €180,000 after he committed all his chips drawing dead.
A limped pot brought about a
flop. Vojtech Ruzicka led for 70,000 from the big blind and Reilly called to the
turn.
Ruzicka slowed to a check and that invited a 140,000 bet from Reilly. Ruzicka had a trap planned though and raised to enough to set Reilly all in, who called very quickly for around 650,000.
Reilly opened
for top pair but was drawing dead as Ruzicka had flopped a straight with
. The river dropped as
and Reilly showed class as he offered warm congratulations to Ruzicka.
A recap of today's exciting events is coming up shortly.
Tim Reilly is heads-up against Ruzicka for €313,000. The PokerStars Blog got to speak to him about that infamous hand against Vanessa Rousso earlier this week and looks at what the future has in store.
Check out the PokerStars blog for the full artice.
Nivel:

25
Ciegas:

25,000/50,000
Ante:

5,000
Timothy Reilly is really on the ropes right now and need to stop the rot quickly otherwise he will finish as runner-up in the High Roller.
Vojtech Ruzicka opened to 80,000 and Reilly called. The
flop saw Reilly check, Ruzicka bet 65,000 and Reilly call. Our turn was the
and Reilly tapped the table and checked again. Ruzicka kept up the aggression and bet 135,000 prompting a quick fold from Reilly.
Vojtech Ruzicka has a five-to-one chip lead and is now a big favorite to walk away with the title here in Deauville.
Timothy Reilly opened to 80,000 and Ruzicka three-bet to 210,000. Reilly called and it was off to the
flop. Ruzicka lead for 175,000 and Reilly called. The
turn saw Rusicka check-call a 280,000 bet and you could sense all of the chips were about to go into the middle.
That wasn't the case though as the
river was checked by both players.
Ruzicka opened
and Reilly couldn't beat that, so he mucked his hand.
Timothy Reilly won two significant pots without showdown before a cooler saw him double up Vojtech Ruzicka.
Reilly called a button raise from Ruzicka and a 80,000 c-bet on an
flop. Ruzicka bet 205,000 on the
turn but folded when Reilly check-raised up to 410,000.
The very next hand after that Reilly limp-called a 120,000 raise. The flop fell
and Reilly called a 120,000 bet. On the
turn Ruzicka check-called a 165,000 bet before he check-folded to a 240,000 bet from Reilly on the
river.
Then came the big preflop all in. Reilly four-bet to 420,000 after Ruzicka three-bet his 80,000 open to 21,000. Ruzicka responded by shoving for around 1.6 million and Reilly called quickly.
Reilly:

Ruzicka:
The board ran a blank
to see Ruzicka reclaim the chip lead.
A big hand just occurred out of nowhere, but it resulted in a split pot.
The heads-up duo seemed to get to the river of a
board without any drama at all but the river saw the players explode into action. Ruzicka checked to Reilly and Reilly bet 240,000. Ruzicka then asked for a count of the bet size before check-raising to 610,000.
"This is so sick," said Reilly who then said something along the lines of "you have to know I have the straight."
Rusicka remained expressionless as he waited for Reilly to come to his decision. That decision was the call and the cards were revealed.
Reilly:

Rusicka:
Both players held a straight and the pot was split.