Event #20: $1,500 No-Limit Hold'em
Día 2 completado
21 levels are in the books in Event #20: $1,500 No-Limit Hold'em. The field of 1,844 is down to just 35 and leading the way into Day 3 is Garrett Beckman with 1,288,000. He is followed by Caufman Talley (1,076,000) and Darrell Funk (781,000).
Also still in the hunt are Ben Zamani (550,000), bracelet-winner Andy Frankenberger (495,000), Natasha Barbour (296,000) and Kevin MacPhee (225,000).
Play resumes Wednesday at 1 p.m. with hopes of reaching a winner by night's end.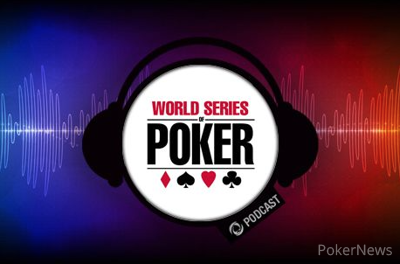 Remko Rinkema, Donnie Peters, and Jason Somerville are sweating the members of Team Run It Up! on Monday, and they discuss the GPI WSOP Player of the Year formula, dealer wages, and more. They also see #PNPod super fan Allen Bari roaming around the hallways, and have a quick chat with the Danny "Miami Boss" Suied.
You can subscribe to the entire iBus Media Network on iTunes here, or you can access the RSS feed here. The PokerNews family of podcasts is now available on Stitcher.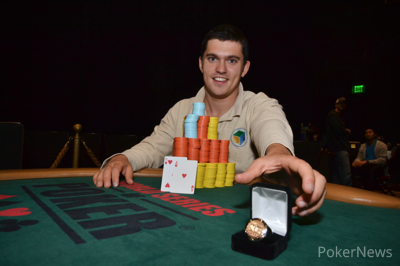 Welcome to the 2015 World Series of Poker!
After Day 1 of Event #20: $1,500 No-Limit Hold'em, Valentin Vornicu finished on top with 212,000 in chips. The field grew to 1,844 players, but just 272 remain. Also amongst those advancing to Day 2 were Natasha Barbour (147,100), Andy Frankenberger (89,600), Kevin MacPhee (67,300), Taylor Paur (62,200), Greg Mueller (61,700), reigning WSOP Main Event champion Martin Jacobson (45,700), and Shannon Shorr (42,600).
Play will resume at 1 p.m. local time in Las Vegas, and those left will be aiming to reach the top 198 and the money spots. There is $460,640 up top for the winner.
PokerNews will not be the live coverage provider for this year's 46th annual WSOP, but our famous MyStack app will be functional for players that have it installed on their mobile devices.
Brought to you by PokerNews, the app connects poker players in poker events. If you are playing in a poker tournament with the MyStack app available, you can now update your own chip count, post comments, and even share photos with other PokerNews members from around the world. You'll also be able to follow the MyStack feed if you want to check in on other's progress at the events, and even create a list of favorite players to follow.
You can download the app via Google Play by clicking here.
You can download the app via the iTunes App Store by clicking here.
You can also check out all of our coverage from the 2015 WSOP right here, sponsored by Skrill!
Event #20: $1,500 No-Limit Hold'em
Día 2 empezado